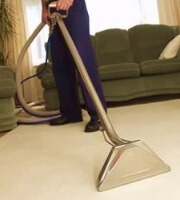 Carpets an rugs are always exposed to pollen & allergens, dirt, odor, smoke, pet hair, spilled drinks, fungi, etc. Even carpets that look clean can have huge amount of germs, microorganisms, and other bacteria. If your carpet is not properly cleaned by professional steam cleaners at least once a year then it my become a breeding ground for the dust and allergens.
If people use professional carpet cleaning services even once in every 6 to 12 months then the life of the carpets can be extended and it remains protected from dust particles.
Our carpet cleaning technicians are specially trained to use safe chemicals and some powerful equipment which help in getting the best cleaning results. The chemicals used are safe for the environment and green. Our cleaners use the process of steam cleaning – it helps in reducing the accumulation of strong detergents as there is good amount of vacuum collection. The method of steam cleaning is known to be the best and thorough method to remove the soil which remains embedded in the carpets.
Carpet Cleaning in Holloway
Prices
Hallway carpet

from £

4

Bedroom carpet

from £

23

Living room carpet

from £

25
Minimum call out charge £48.
The team of cleaners use many different ways for cleaning the carpets through the process of steam cleaning. In fact the proper term for steam cleaning the carpets should be hot water extraction. But since commonly people call it steam cleaning so we prefer to call it by that name. The stage one in the steam cleaning is not preferred by us as it is very old.
In this stage the cleaner brings has to bring one portable machine which is filled with detergent and water and no proper rising is done. The residue of the detergents is not removed properly from the carpets and this promotes the rapid resoling.
We at carpet cleaning do not use the stage 1 of steam cleaning process, but prefer the stage 6. The normal stain removal and spotting is there in the cleaning price of the steam cleaning method. It is always possible that after cleaning some stains could remain. It happens that the stains are not removed properly and require some extra treatment.
The process of spot dyeing or heat transfer can help in removing these extra stains. All the procedures are discussed with the clients and the quote is prepared. Many times some stains are permanent and can be very difficult to remove those are highlighted before starting the work.